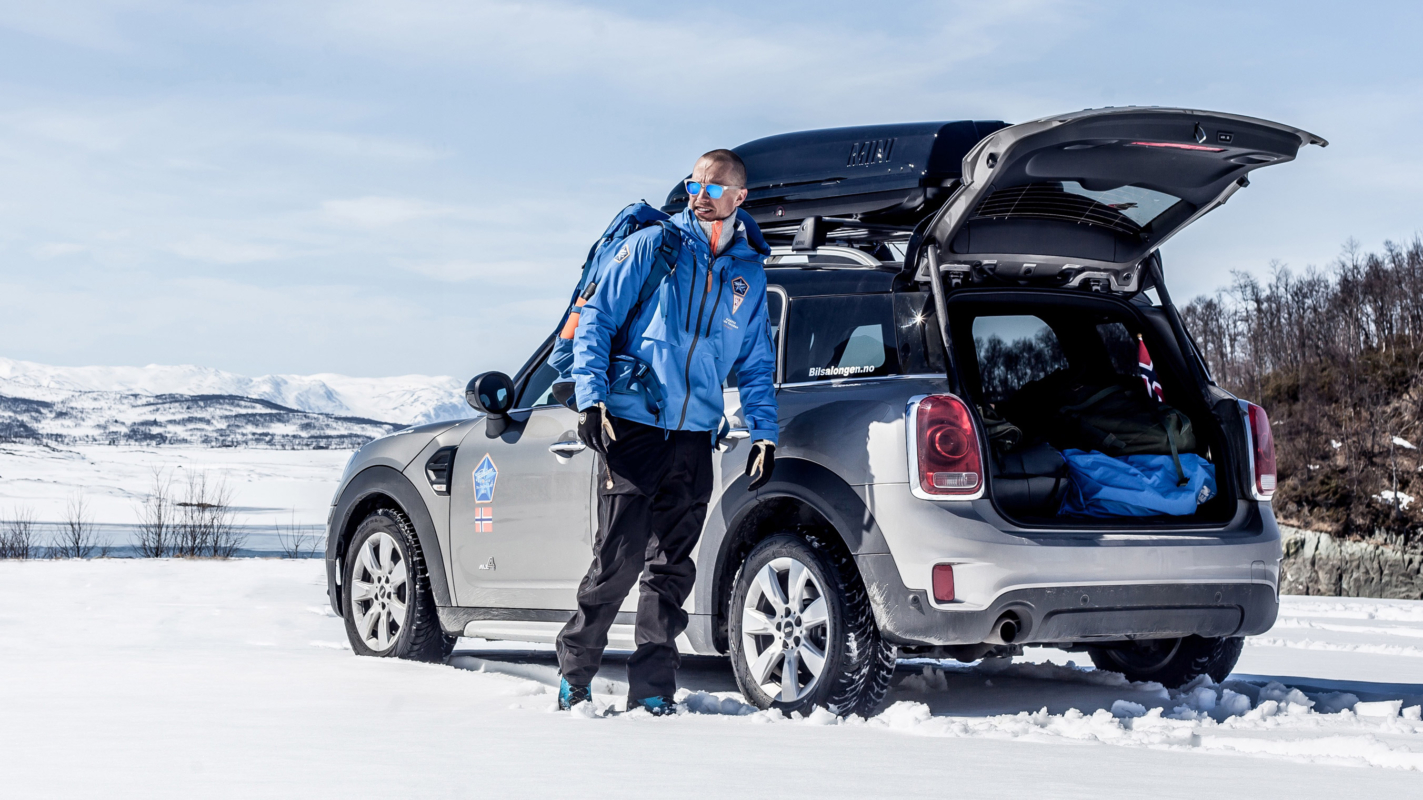 This was my first time to the amazing Hardangervidda. After the polar expedition, winter has won over my heart and I couldnt wait to get back in the freezin' temperatures. And oh boy did Hardangervidda deliver. What a beautiful place.
You get the feeling already when you drive there. The excitement, the rush, the clean air, the amazing views. And of course it helps driving the most fun and allround car on the planet, the MINI Countryman All4. What an amazing vehicle! So steady and secure, yet so fun and nothing can stop it. The perfect travel buddy with enough space to get all my gear with me.
It was wonderful to be back in the snow! I could drive all the way to my starting point and got the sled out. This time it wasnt the dogs who had to pull, it was me. And a reminder to next time, dont bring that much gear. That shit was heavy! So I have to give my deepest respect to my six heroes pulling the sled on the polar expedition for 300km!
I'm not that good with skiing, but I like it very much and wanna get better. But it went alright although skiing with a 70L Abisko backpack and a sled full of gear really is something different. No balance, no grip – really hard!
After reaching campsite, I had to climb to the top and enjoy the view, explore the area. Also for safety reasons, it's important to know what's around you. I always carry food just in case. And REAL Turmat is just perfect for the job. We ate it on the polar expedition and I was so impressed over the taste and amount of energy, that it has become my number 1 choice.
It's so extremely easy. Just bring or make some boiling water and 8 minutes after I had a lovely reindeer stew. You can get all sorts of dishes and they all taste amazing. I dont know how they can manage to freeze dry food and still keep the flavour that well. I'm impressed! Go try it on your next trip!
It got cold at night, the temperature really dropped when the sun went down. But with the right equipment it's not a problem. Learn how to use it and take your precautions, then you'll sleep like a baby.
Very early morning coffee at around 06:00. After a good nights sleep I took all my jackets and spreaded them out so they could dry and get warm in the sun. I always wear Ulvang on my trips (and actually also at home). Their whoolen products are just without competition. They are number one and they even look amazing as well.
Normally I dont smile when I have to get home, but getting over that last hill and looking down on my MINI, I just cannot help smiling, although I'm going back. And some people live by the "bucketlist" mentality. Go somewhere once and on to the next. That's a big mistake. Go back to the places you already have been. Many times! I will definately go back to Hardangervidda and it's a huge area. So much to experience and such a variety depending on the time of year. I really can recommend you going, it's a mindblowing place. Remember to follow me on Instagram for more adventures and photos.
https://www.iamnordic.no/wp-content/uploads/2017/05/hardangervidda-scaled.jpg
1439
2560
kmdethurah
https://www.iamnordic.no/wp-content/uploads/2021/01/iamnordic-5.png
kmdethurah
2017-05-20 21:44:43
2017-09-04 22:13:11
Exploring Hardangervidda in the amazing MINI Countryman All4