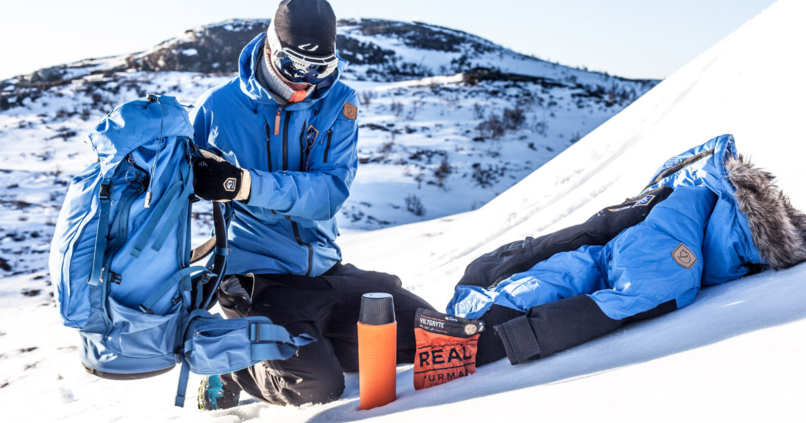 Of course the list of important gear, clothing and other stuff concerning safety is important. But there is one thing that I always pack first. And it doesn't matter if it's just a short trip or a longer hike/expedition. One thing is always key to remember. Everything can go wrong even on the most simple trip. You can fall, you can get ill, you can meet others that are having a hard time. So what is it then? Food! And not just ordinary food. A full meal. But how do you pack a full meal? That's the best part, it's already been done for you and it only takes 8 minutes to prepare.
The first time I tried REAL Turmat was on our polar expedition. A 330km trip over the arctic tundra. I wasn't paying attention to the food at all, I was all excited about the challenges and experiences we where going to get. I actually thought that the food was gonna be really bad, but that was just a part of the deal. But I was surprised! It was on our first day and we all took a break to refuel. We had boiled water before the trip in our Primus and I opened this REAL Fieldmeal pack with very low expectations. I had never tried something like this before. I just had to pour boiling water in the bag, close it and then wait for 8 minutes… I remember I was in the middle of telling a story when I opened the bag and when I took my first bite I was extremely surprised. What a taste!! I absolutely loved it!! Of course all food tastes better when you are out, and we where surrounded by the most beautiful arctic scenery. So I actually bought one when I got home just to test if it actually tasted as good as I remembered, and it did!
Not only is it extremely easy to make and you can spend the waiting time on getting other stuff done. It quickly gets a routine. But it's also all natural and filled with all the good stuff that gives you energy and a really good feeling. And I dont know if they actually are aware or if it's something that people talk about, but I will – It makes your stomach function really well (and that's kinda important if you are out in the wild and especially if it's freezin' cold). I have actually tried eating a REAL Turmat when I was having a bad stomach, and it helped. They should include that in their marketing somehow, delicately of course haha.
But back to the topic. I always have REAL Turmat in my backpack. Not just because I love it and they have all kinds of meal (also vegetarian if you want), but also because I know that you can suddenly run out of energy or meet others that are feeling bad. It actually happened to me. I was out on a hike here in Telemark, just exploring the area. I met a woman who was sitting down and I just said hello as I always greet people. I quickly saw that she wasn't feeling well and I asked her. She had lost her energy and felt dizzy. Quickly I gave her some of my water (with REAL On the Go energy powder mixed in) and I made her a meal. Halfway through the meal she told me that she already felt better and thanked me. I'm sure it wasn't a life/death moment, but it was just great to help out.
Dont get me wrong. There's something lovely about making your own food when hiking and making eggs over your burner. I do that as well, but it's always great to have a backup or just to have the opportunity if the weather is really bad and you just wanna get some food quickly.
So do yourself a favor and get some packs for your next hike or expedition. They dont cost much and the last forever due to the dry-freezing-technique that I still find extremely fascinating. If you wanna read more about REAL Turmat, go to their website www.drytech.no. You can order them online or go to your local XXL Outdoor shop here in Norway and buy them. And honestly? I haven't found a meal from them that I dont like. And there are so many to choose from! So high-five to them! Safety doesn't have to taste bad!
https://www.iamnordic.no/wp-content/uploads/2017/09/musthave.jpg
630
1200
kmdethurah
https://www.iamnordic.no/wp-content/uploads/2021/01/iamnordic-5.png
kmdethurah
2017-09-06 22:40:27
2017-09-06 22:41:12
My best hiking and expedition tip that everybody should put on their list