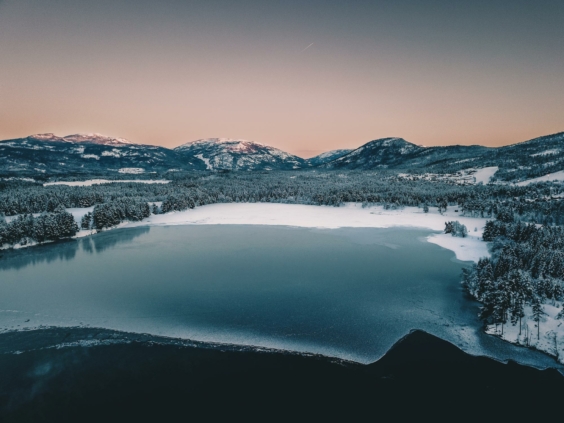 There is something special and unique over these soft and calm shapes, the white duvet that Mother Nature has pulled over the landscape. A pure satisfaction for the eyes. A calming effect on the mind and happiness for your heart.
We as humans have a tendency to forget how beautiful the world around us is. We surround ourselves with more and more unnecessary stuff that we replace and throw away again. It's a constant materialistic race that has taken over and the only thing that it brings is stress and a never satisfying feeling. Instead, take a walk and look around. Feel. See. Touch. In a world where children grow up with iPads in their hands, it's so important to keep our connecting with nature and teach our children that it's okay to get dirty hands. Kids who play outside grow up to care about nature. And we need to take care. Take care of nature, and ourselves.
Last week I went on a trip in cooperation with Visit Telemark to experience some of many winter activities in Telemark together with Stine Hartmann. Although I'm quite used to go on adventures on my own, it was really interesting to experience new activities and see new areas and meet new people. The first night at Haukeliseter Fjellstue, I went out in the middle of the night – it was -22 degrees and the silence was just overwhelming. The moon lit up the landscape and time stood still. The feeling you get inside you is impossible to explain. The joy, the humbleness, the sadness, the love. All feelings blossom in these dead and cold surroundings. But what it does to you is give you perspective – clear your head. Something that is crucial in this materialistic and shallow world.
If you want, you can see a short video of our trip here:
Making your own adventures
I think a lot of people actually want to get more out. But something holds them back. It's a bit like starting in the gym. The first couple of times are extremely hard. But try to start with just taking a regular walk – it can be in your garden, in your neighborhood  – anywhere really. Just start with that – being outside. Sometimes that can be enough. Then when you are ready, walk further and so on. It's not about being an expert. It's about having fun and learning. As you can see in the video above – I never tried Telemark skiing before. But don't be afraid of failing and falling. It's not embarrassing – it's a part of learning and being better – and it's fun.
As we move through the landscape – no matter if we are in a car or on foot. Try to cherish what you see. Dont just look. See the beauty around you. You need to get the connection back. You need to make contact with Mother Nature. Look at the pure and white snow, how it covers everything – look at the ice drops on the trees, as fragile as they are. We are surrounded by magic – so take it all in and smile a little more. I'll keep on moving, trying to get better. If you want to follow my journey, feel free to visit my adventure on Instagram where I talk openly about my experiences and ups and downs. Nobody is perfect, but we can try to be the best version of ourselves as possible. Life is not a destination – it's a journey. And even a journey of a 1.000 km starts with a single step.
https://www.iamnordic.no/wp-content/uploads/2018/02/iamnordic-4-2.jpg
1500
2000
kmdethurah
https://www.iamnordic.no/wp-content/uploads/2019/01/iamnordic.png
kmdethurah
2018-02-15 22:56:57
2018-02-15 22:57:26
Winter in Telemark is good for your soul